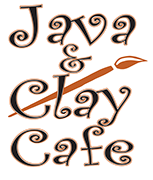 Java & Clay Cafe
3210 Harborview Drive
Gig Harbor, WA 98335
Phone
253-851-3277
Email
info@javaclay.com
Hours
Monday - Thursday: 8a - 6p
Friday - Saturday: 8a - 7p
Sunday: 8a - 6p
Follow us online
Job Openings
We are currently hiring 21+ pottery attendants/baristas (21+ for the alcohol server supervising responsibility). Please bring in your resume and cover letter, and ask to speak with a manager.
Donation Request
If you're looking for a donation for your next fundraiser or event, please click here to complete the Donation Request Form.
Customer Feedback Survey
We're listening and want to know what you think. Please take a moment to click here and fill out our quick 10-question survey.
10% Military Discount
We extend a 10% military discount. Thank you for your service!
What Our Customers Say
We have the best customers in the world. Here's what they're saying about us:
"One of my Favorite Places on Earth. Had a Surprise 62nd Birthday party here. A wonderful day."
- Brian C., Gig Harbor, WA
"Hey friends, if you're looking for a place to get together with friends or even for alone time, this is it! Great coffee, snacks, fun and awesome service!"
- Danyal S., Tacoma, WA
"I love this little creative coffee hang out! Comfy and chic, and so many neat ideas. I can't wait to attend an event or just create a piece of art."
- Lucie P., Bellevue, WA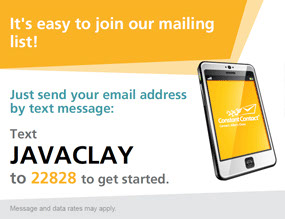 SUMMER (Labor Day - Memorial Day)
Monday - Thursday: 8a - 6p
Friday - Saturday: 8a - 7p
Sunday: 8a - 6p
WINTER (Memorial Day - Labor Day)
Monday - Sunday: 7a - 7p
BOOK
Your Event
ONLINE
Java & Clay Cafe | 3210 Harborview Drive | Gig Harbor, WA 98335 | 253-851-3277
Copyright © 2010-2017 Java & Clay Cafe, LLC. All Rights Reserved.
Gift Cards
Now Available
See store for details.