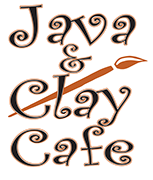 * No studio fees!
* Pottery is $12 & up
* Pieces ready in 5 days & we ship
* Drop in anytime, no reservations needed
* All ages welcome
* Cafe service served to your table
* Great me-time activity for you to do on your own or with friends
* Kids stay busy with painting, or playing with toys from our toy bin
* Come again! We have new pieces and new techniques to show you!
Virtually Tour Through All of The Rooms in Our Studio
Gifts designed by you are a unique way to tell that special someone how you feel!
* Office Team Builder
* Bridal Showers
* Baby Showers
* Team Activities
* Me Time
Visit our Facebook page for even more inspiration! Actual stock may vary with season and availability.
* Scouts
* Date Night
* Church Groups
* Fundraisers
* Family Night Out
* Fieldtrips
* Daycares
* Mom's Club
* Meetup
* Homeschools

Step 1
Select a piece of
unfinished pottery.
Step 2
Choose your colors
and paint your design.
Step 3
We'll glaze and fire
your masterpiece!

Click headlines to view detail.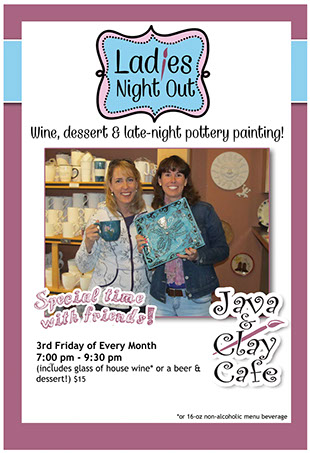 SUMMER (Labor Day - Memorial Day)
Monday - Thursday: 8a - 6p
Friday - Saturday: 8a - 7p
Sunday: 8a - 6p
WINTER (Memorial Day - Labor Day)
Monday - Sunday: 7a - 7p
BOOK
Your Event
ONLINE
Java & Clay Cafe | 3210 Harborview Drive | Gig Harbor, WA 98335 | 253-851-3277
Copyright © 2010-2017 Java & Clay Cafe, LLC. All Rights Reserved.
Gift Cards
Now Available
See store for details.